My client needed a credenza for their living room and they had a picture that they had pulled out of a magazine for inspiration. "I don't know why we're showing this to you, because we don't really like it. The color is too dark, the shape is too boxy.... I guess we sort of like these shelves that stick out from the sides". I wish I still had that picture; it shows a perfect example of learning a lot about what a client wants by what they don't want. In this case I knew that they didn't want dark and they didn't want it to be too square. They also told me that they wanted storage. Something that could be used for display as well as for tucking things away. I suggested that tambour doors might be a good way to go since they could be left partly open to display what they wanted to show while hiding the other stuff and since the tambour doors slide to the side and hide in the cabinet itself, they don't stick out into the room when left open. I suggested maple heartwood for the case because it is light in color but not stark white, and curly maple for the doors to give the tambours some sparkle.
To help my clients visualize a design I often make small models of the piece and photograph it from the vantage point that you would see it in the room. It's a great tool that is super quick to make and very effective in the design process. Here are 2 views of the model I made for this cabinet. It is about 6" long and 2 1/2" tall.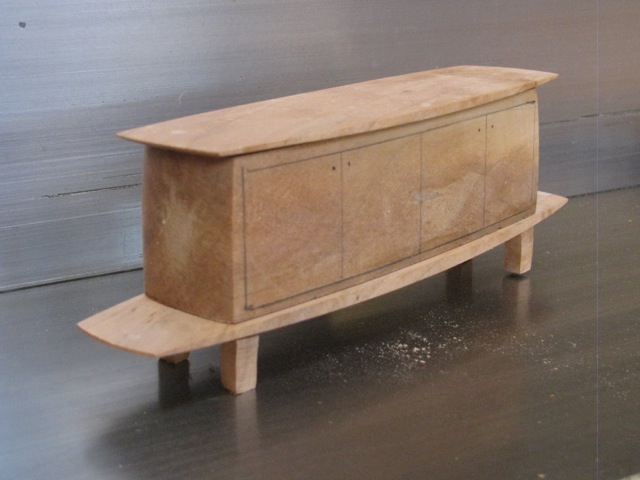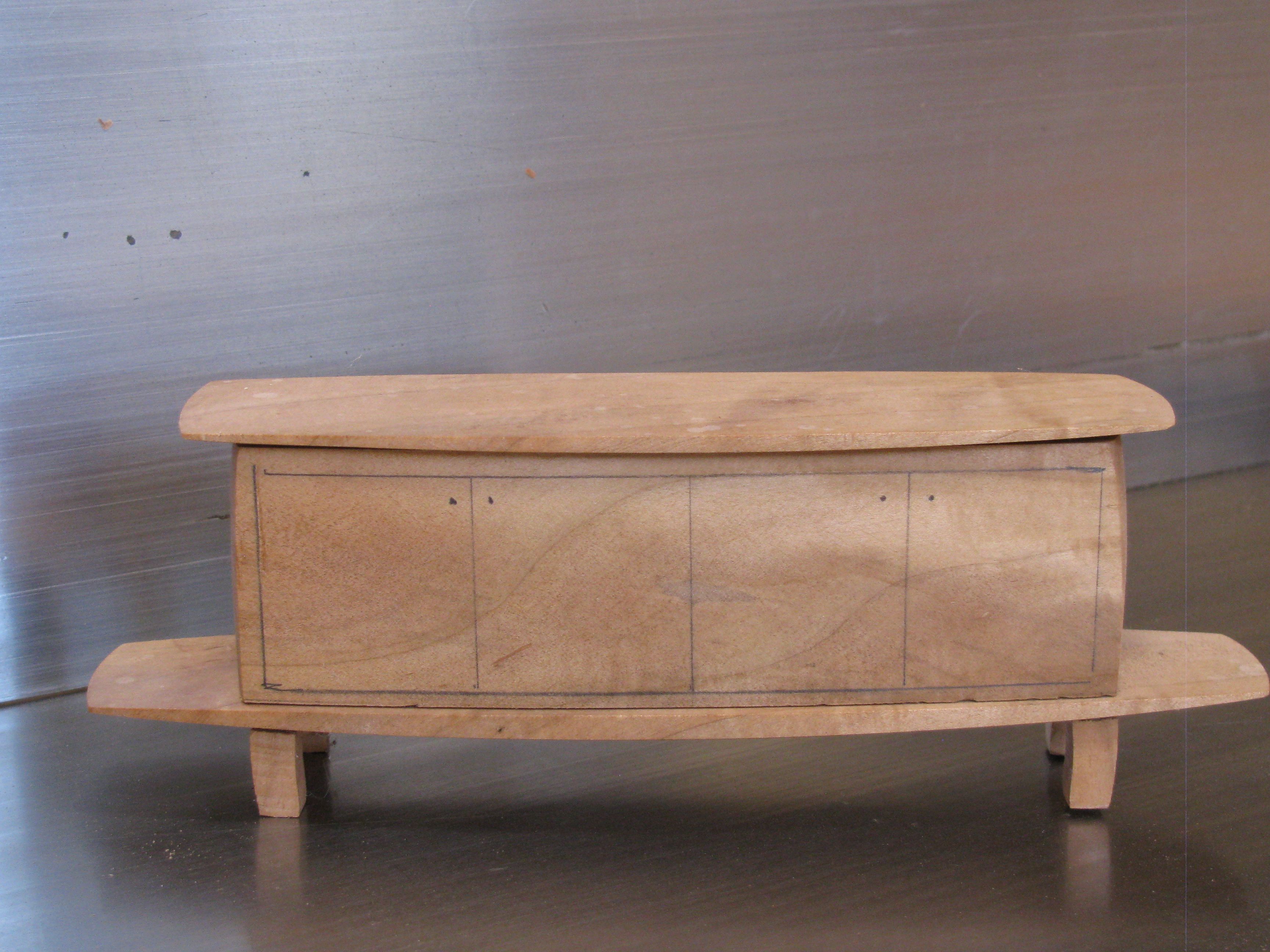 The client liked the design but they were wondering about the scale of the piece and how it would look in the space. To help them see it in the space I built a full sized model out of cardboard and hot melt glue. These models are also quick to make and look remarkably real. Put in location, they really help the client visualize how the piece will look when it's done.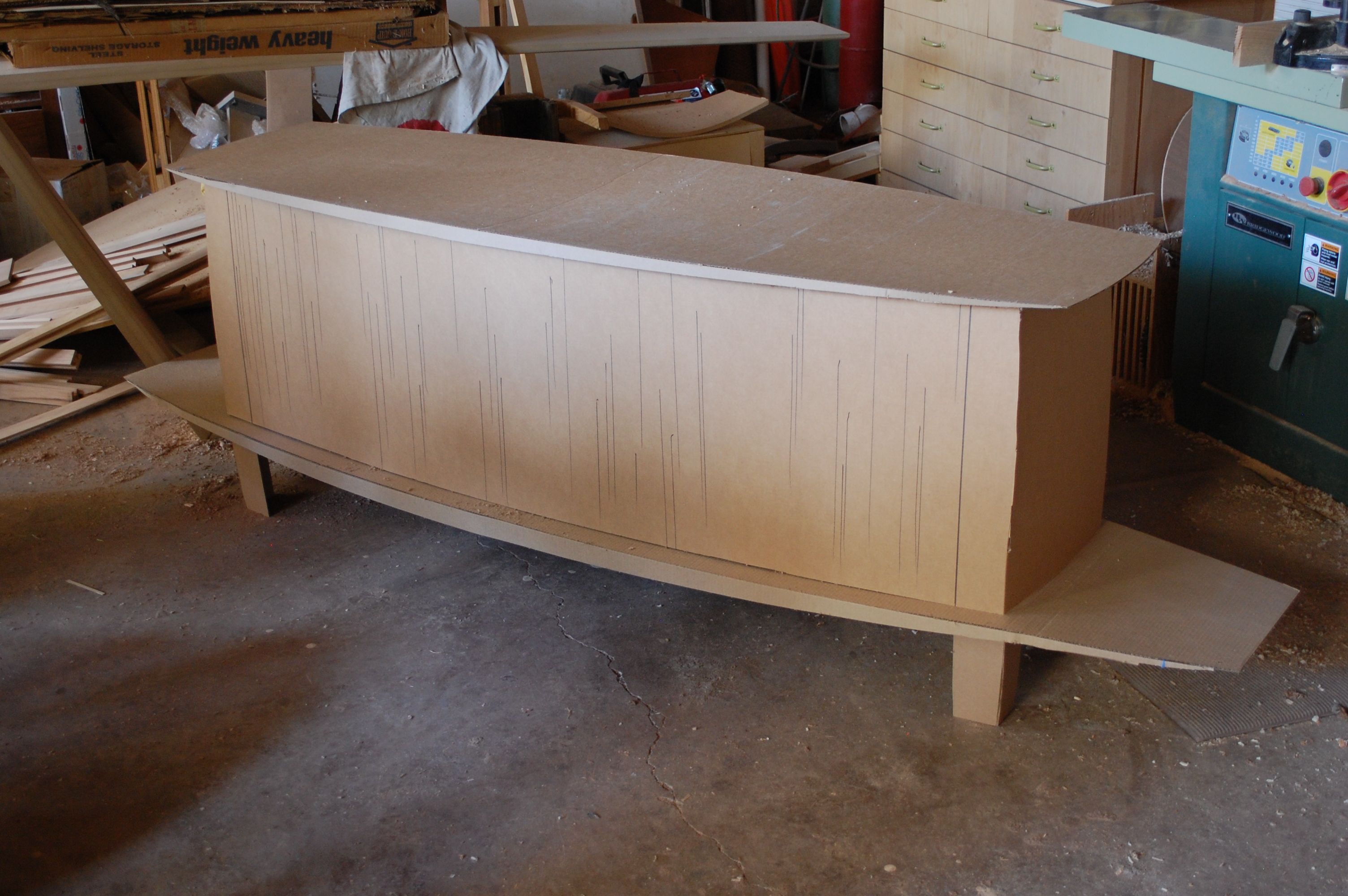 As a designer and builder of custom furniture I see it as my job to have good comunication with the client, use their ideas to bring a design from the inspiration phase through good design and into actual construction and delivery. On time and on budget. The tools I used on this project are part of the process that ensures that when the finished piece is delivered, the only surprise is that it looks better than they imagined. 
You can see how it was built in this blog post. For more information on designing and building tambour doors you can check out my article in Fine Wood Working Magazine.