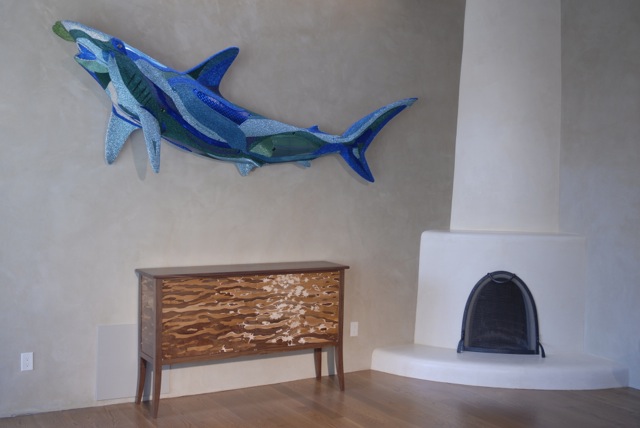 Some of my clients have a pretty good idea of what they want their piece of custom furniture to look like, but not many. Usually they have a hint of an idea. And an approximate size. The client I built this cabinet for has always just told me that they wanted something in a particular space and then waited to see what I proposed. As I got to know them over the years I came to realize that they had pretty ecclectic taste and some pretty interesting artwork in their home. In this case they had a 9' long hammerhead shark that had been completely covered in beads by the artist Kathy Honea and they wanted a piece of furniture to go under it. Okee dokie. I'll see what I can come up with.........
I had always wanted to learn marquetry - the art of 'painting' with wood veneer - but I had never had the right client for it. In our initial design meeting I tossed out the idea of doing a marquetry piece; maybe picking up on the abstract, colorful patterns that were on the rug in the room. "What would that look like?" "Hmmm, not sure. Let me think about it".
After thinking about it for a few days I somehow remembered a photo I'd taken on a lake way back in 1987. Really?!? Heck, I have a hard time remembering what I did yesterday. I don't know how that picture popped into my punkin' head.
"What do you think of the idea of doing a picture of water on the cabinet under the shark?" "What would that look like?" Hmmm, not sure. Let me work on it". I was climbing way out on the limb on this one.
I like to make small mock-ups of furniture pieces to help my clients visualize the piece of furniture that I'm designing for them and this was the perfect situation for one. So I scanned the photo, put it in iPhoto, cropped it and messed around with the color a little to bring it into the range of wood tones. Then I built a 10" long cabinet model, printed the image and stuck it to the face with spray adhesive. Set it on a piece of fake wood paneling, stand up a chunk of white melamine behind it, lean over and take a photo. Viola!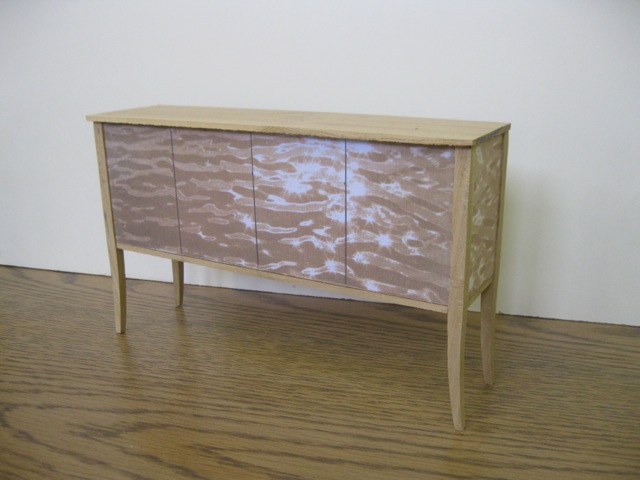 It was enough to sell the job. Then I simply had to build the actual cabinet and learn the ancient art of marquetry. How hard could it be......
You can see how the marquetry was done in this blog post.