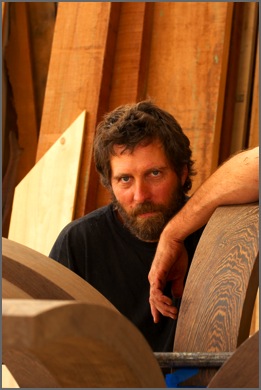 "Making the simple complicated is commonplace; making the complicated simple, awesomely simple, that's creativity". —Charles Mingus
Scott Ernst Custom Woodworks creates art whose power is seen and felt. This is an art of improvisation and co-creation. Scott's fine woodworking is an inventive dance between the client, their vision and the skills of an expert craftsman and artist. The result is heirloom quality furniture that is sculptural, functional and highly personal.
Scott offers his clients a design process and experience which is truly unique. Each piece of furniture is individually crafted to express the desires, needs and personality of the client. He makes it easy to create. Scott is skilled at incubating and drawing out ideas and readily transforming vague ideas or whimsical fantasies into reality. And with him as a guide, the design process is effortless, responsive and dedicated to the highest quality service.
Scott invites you to innovate, create, invent—and most importantly dream.
Scott Ernst is equally steeped in contemporary and traditional design. He easily stands astride the flight of the imagination and the groundedness of history.
Scott's formal training is in landscape architecture where he became fluent in the language of spatial relationships, proportion and design. His furniture draws from this idiom but is not bound by one furniture school or tradition.
Drawn in by the limitless design possibilities and three-dimensional sculptural elements of wood, Scott has, since 1991, been engaged in the improvisational dance that is fine woodworking. He is an expert craftsman who is driven by both his love of the material and love of the collaborative design process.
Scott's work can be found in residences, hospitality and corporate environments around the country. His material palette integrates the world's finest woods with exceptional accenting materials such as veneers, resins and metals.
Scott Ernst Custom Woodworks has been featured in Custom Made , The Custom Furniture Source Book, Bespoke: Furniture from 101 International Artists, Woodshop News, The Santafean Magazine, New Mexico Magazine and Fine Woodworking magazine.